why is this in your inbox? We believe that at some point (if we're not working on something together already) that you will need creative thinking in the design and development of some marketing materials. We love building long-term relationships and understand that this only happens with repeated success. AXIS visual has been supporting the business community for 15 years and has many valued long-term relationships. If you have any thoughts or questions about how we work or how we might approach an upcoming marketing challenge, give us a call (610-527-0332), drop us a note, send a carrier pigeon, whatever you prefer.
Here the shortlist of what we do:
Branding / Logo Development
Corporate Communication
Publication Design
Website Design
Print Design (All Kinds)
Package Design
Exhibit Design
Signage
Email Marketing
Product and Service Literature
Advertising
Consulting
You Name it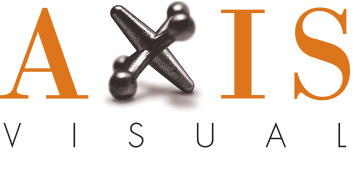 A Quick Shift in Advertising
I can't help observing the changing trends in advertising as a result of the coronavirus. Early on (weeks ago), when the cultural change had not yet worked through the advertising pipeline, the existing ads showing people playing and joyfully getting together almost seemed foolish with this new world that was being forced upon us. Then one by one, we saw ads respectfully adjusting to our new existence. Initially, they were pretty simple just text acknowledgments of what we were going through. Now we see ads that have a greater production time/cost and that connect more to our emotional state. There is also a softer, more subdued quality to the advertising and marketing that we see today. The change in the advertising message drives a change in everything from color to pacing to typography to imagery, to just about every other aspect of marketing. I've written in the past that good and effective design and marketing needs to take into account the many different environments in which it exists. There is the context of a company's competition, the context of their business area, their audience, the time in history, let alone the visual design contexts. But like a lot of other people, I never saw this context coming. And this has radically affected and will continue to affect advertising and marketing for some time. 
I tend to be a guarded optimist, sort of the Russian proverb (often attributed to Ronald Regan) of "trust but verify." But with our current situation, the two ends of that statement seem to be much farther apart than they once were. The "guarded" or "verify" part of the statement is what we are doing every day. We stay at home. We wear masks. We keep a 6-foot distance from anybody. We search for facts and an understanding of what we're dealing with. We look for ways to absorb the financial and emotional impact of our current situation. Way off on the other side of the statement are the "trust" and "optimist" aspects. We are asked to believe in a healthy future. We see or experience pockets of creative joy and the human species giving of itself without question. We desperately want to be able to reach forward to a time when we can live without this shadow over us. Like children on a seesaw, the mind swings back-and-forth between protection (verify) and freely going out and expressing life (trust). But unlike children on a seesaw, this is considerably less fun. And stretching the thought process from protection to optimism day by day, minute by minute can get exhausting.
It's OK. It's OK to feel fear. It's OK to avoid it. It's OK to gather information about this virus. It's OK to take a break from the news. It's OK to focus on little pieces of joy. It's OK to mourn the losses from this virus. It's OK to work and accomplish something. It's OK to play. (I suddenly feel like I'm about to launch into singing Pete Seeger's song Turn Turn Turn… although I knew it better when it was done by The Byrds.) 
So here we are, week four, five, eight, who knows. By the way, what day is it anyway? I can't say that my business is an accurate barometer of the economy. There are a lot of other experts to listen to for that. But we've been working steadily through this and to the degree that AXIS does occupy its place in the business world, we are beginning to see an increase in activity. Some of our clients are requesting additional work as a result of the coronavirus. Others are continuing with their traditional marketing efforts. As all the talking heads say, nobody expects the economy to "bounce back" but little blips of a heartbeat are nice to see, and they will only grow stronger. I think I like this side of the seesaw better.
If we can help with your graphic marketing or would just like to discuss some ideas please let us know.
Copyright © 2011 AXIS visual, All rights reserved.
Our contact
information is:
AXIS visual
1600 Lower State Rd.
Doylestown, PA 18901
215.491.0332
Contact Us
Bill Milnazik
Problem Solver No. 1
AXIS visual
Thank you for taking the time to read this. If we can help with your design and marketing needs feel free to contact us.