why is this in your inbox? We believe that at some point (if we're not working on something together already) that you will need creative thinking in the design and development of some marketing materials. We love building long-term relationships and understand that this only happens with repeated success. AXIS visual has been supporting the business community for 24 years and we have many valued long-term relationships. If you have any thoughts or questions about how we work or how we might approach an upcoming marketing challenge, give us a call (215-491-0332), drop us a note, send a carrier pigeon, whatever you prefer.
Here is the shortlist of what we do:
Branding / Logo Development
Corporate Communication
Publication Design
Website Design
Print Design (All Kinds)
Package Design
Exhibit Design
Signage
Email Marketing
Product and Service Literature
Advertising
Consulting
If you don't see it here just ask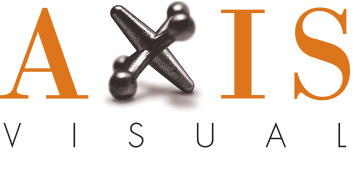 There is something refreshing about a new year. It's a blank sheet of paper, a clean canvas. There are no scribbled out errors, no reminders of plans that didn't happen, no successes or failures, just a clean space to make anything you want. There is a feeling that anything can happen. OK, I'm not particularly thrilled with the cold and dark weather that comes along with this time of the year, but my philosophy is "Ignore winter, it will go away".
One of the things that we've done to kick off the new year is to launch a new website. Yes, a website is something that can (and should) always be modified and adjusted but we looked at where the site was, what was working, what wasn't working, and made some serious changes. We added some new work, made it more informative, we added an estimating process, and even though our site is particularly graphic heavy (as it needs to be) we worked to speed up the site and make Google a little happier. We also added what I'm referring to as audio nuggets to make the process more engaging. We encourage you to take a little time and take a look (www.axisvisual.com)
We wish you a happy, safe and successful new year and lots of fun painting your new experience for 2022.
A Change of Scenery
Traveling, seeing different things, tasting different food, meeting different people, always opens the mind to new and different thoughts and ideas. When I speak to graphic design students I usually make it a point to tell them that every experience they have can be used in this profession of graphic design. Everything they see, everything they do is a potential source for a brilliant design solution. Graphic designers are like giant file cabinets. We need to file away every experience and we need to know when to take it out and use a particular style or color or typography or technology to fulfill a specific client need. With that in mind, a short trip to DC over the holidays gave me lots to file away. Here's a quick overview from some of the galleries and museums that I just found worthy of recording.
I generally try to avoid politics in my business communications but I will say that I think every politician, right, left, blue, red, or independent should be required to go to the FDR memorial regularly and read the quotes that are carved into the stone there. They so eloquently deliver the ideals and foundational beliefs that we as a country should be striving for. It was a very moving experience.
Goldilocks and the Three Emails
Email marketing is a lot like Goldilocks and the three bears. Too hot, too cold, or just right. I receive emails from some companies on a daily basis or even more frequently than that. Even though the subject is interesting to me I find that after a while I just delete them because I know there will be more tomorrow. And tomorrow I delete them knowing that there will be more the next day, as well as the content being repetitive. Sound familiar? High-frequency email communications become this annoying texture that just gets overlooked. On the other hand, if they are too infrequent (we, at AXIS tend to be guilty of this) it's easy to forget who they are from and lose any connection with that company. There was a time when people used to be exposed to a resource that they might need in the future and they would file the information away about them. We are being exposed to so much information and so many different marketing messages that we rarely have time to record information for future use… or remember that we recorded it. This puts email marketing in a position where it has to be in front of a potential client at the point that that service is needed… which for the most part is unknown. This circles us back to the high-frequency approach, which as I mentioned has built-in flaws. Although I'd love to be able to say that the perfect timing is 8.3 days, there is no perfect frequency for email marketing. It should be driven by your audience, what you have to say, and an awareness of the current email climate. Not too hot, not too cold. In addition, as in most marketing, if it looks boring it is much less likely to be read.
A Perfect Time to Plan Marketing
It can sound so self-serving for us to talk about this being a perfect time for planning your marketing for 2022. But after 24 years we've learned a few things about this topic. The beginning of the year is a great time to look at what has been done, what worked, what didn't and to map out a plan to implement throughout the year.
Businesses frequently are so focused on supplying good service to their clients that working on the marketing of their own business can easily be "put on the back burner." The story of the shoemaker's kids going without shoes is certainly an old metaphor but it's been in existence for a long time for a reason. It does take some effort and time to do the upfront work, the initial strategy, or to at least determine your goals for the year but like any large project, breaking it down into smaller sections makes it easier to complete. A good starting point might be to answer a few questions. 1) How is the current marketing working? 2) Are there people you would like to get in front of? 3) Where are they spending their time? The answers to these questions can begin to direct a marketing plan. Depending on your company the plan might have a few simple tactics to develop, or it might have a more comprehensive multi-phase process with many tactics. It might be as little as getting new business cards or as large as the creation of a new corporate brand look. Maybe it's a consistent advertising campaign or a new trade show booth and materials. Or, you might need a revised website. If you have specific thoughts we'd be happy to help. If you are "a deer in the headlights" and  have no idea where to start we'd be happy to talk with you about that too.
The environment for communicating always changes. Communication has to adjust as well.
When you are ready we'd be happy to help with your communication, design, and marketing needs.
Stay well. Stay safe.
Copyright © 2021 AXIS visual, All rights reserved.
Our contact
information is:
AXIS visual
1600 Lower State Rd.
Doylestown, PA 18901
215.491.0332
Contact Us
Bill Milnazik
Problem Solver No. 1
AXIS visual
Thank you for taking the time to read this. If we can help with your design and marketing needs feel free to contact us.